Milestone quilts are a concept that was first introduced to me by Kitty Wilkin (Night Quilter) at the 2018 QuiltCon in Pasadena, CA. She gave a wonderful lecture about different types of quilts you can make to mark milestones. Her main example was a quilt she made for her son, in which she made one block a month for the first year of his life. Then she would photograph him with the block. It was so fun to look at how her son grew as the quilt grew!
A bit before QuiltCon I found out I was pregnant, so this idea really inspired me. I kept it in the back of my mind throughout my pregnancy, but I was so sick during it that I didn't work on it at all. As soon as my daughter was born, I felt inspired to make the project a reality. I quickly sketched out what I wanted to make.
I wanted to mix it up a bit and make my milestone quilt a medallion quilt. I have always wanted to make a medallion quilt plus I thought it would make each month fun because it would kind of build off of the last month by starting in the middle and working my way out.
The colors were really important as well. I wanted something that was more sweet than bold because I felt like there was already a lot going on in the design. I decided to use Kona cotton in seafoam, laurel, shell, teal blue, salmon, and grellow. Reflecting back over the first 5 months I wish I would have chosen something a bit darker than shell. The color looks beautiful but it doesn't quite stand out enough in the quilt.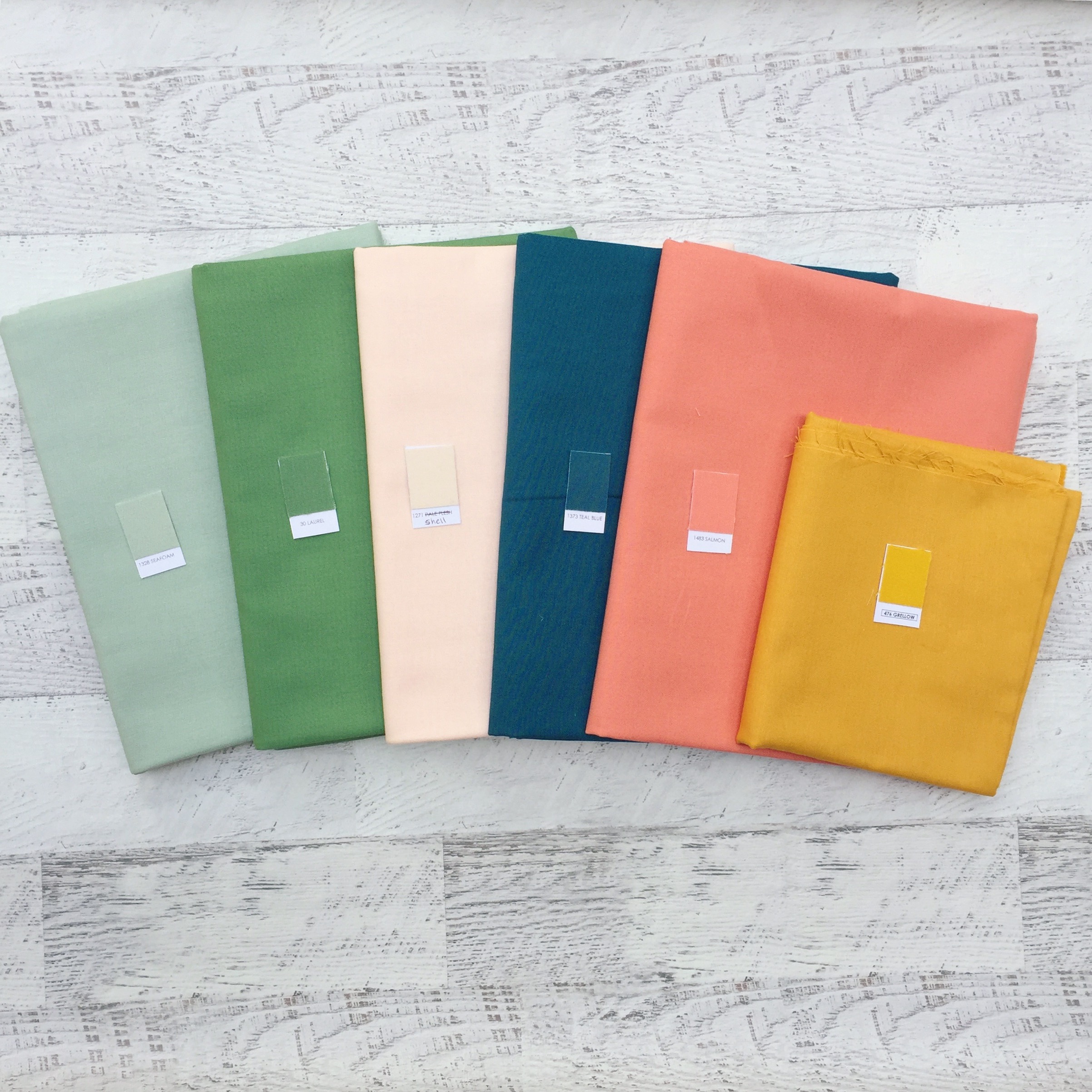 I wanted to make the quilt meaningful to my daughter Clara, so I tried to make each block represent something in her life. I thought it would be fun to show you each month and describe each block. Here are the first 5 months!
Month 1: This is the very center of the quilt and the center of a bigger block I designed called the Spark block. Because the name Clara means bright and shining, I thought the Spark block would be a great representation of her name.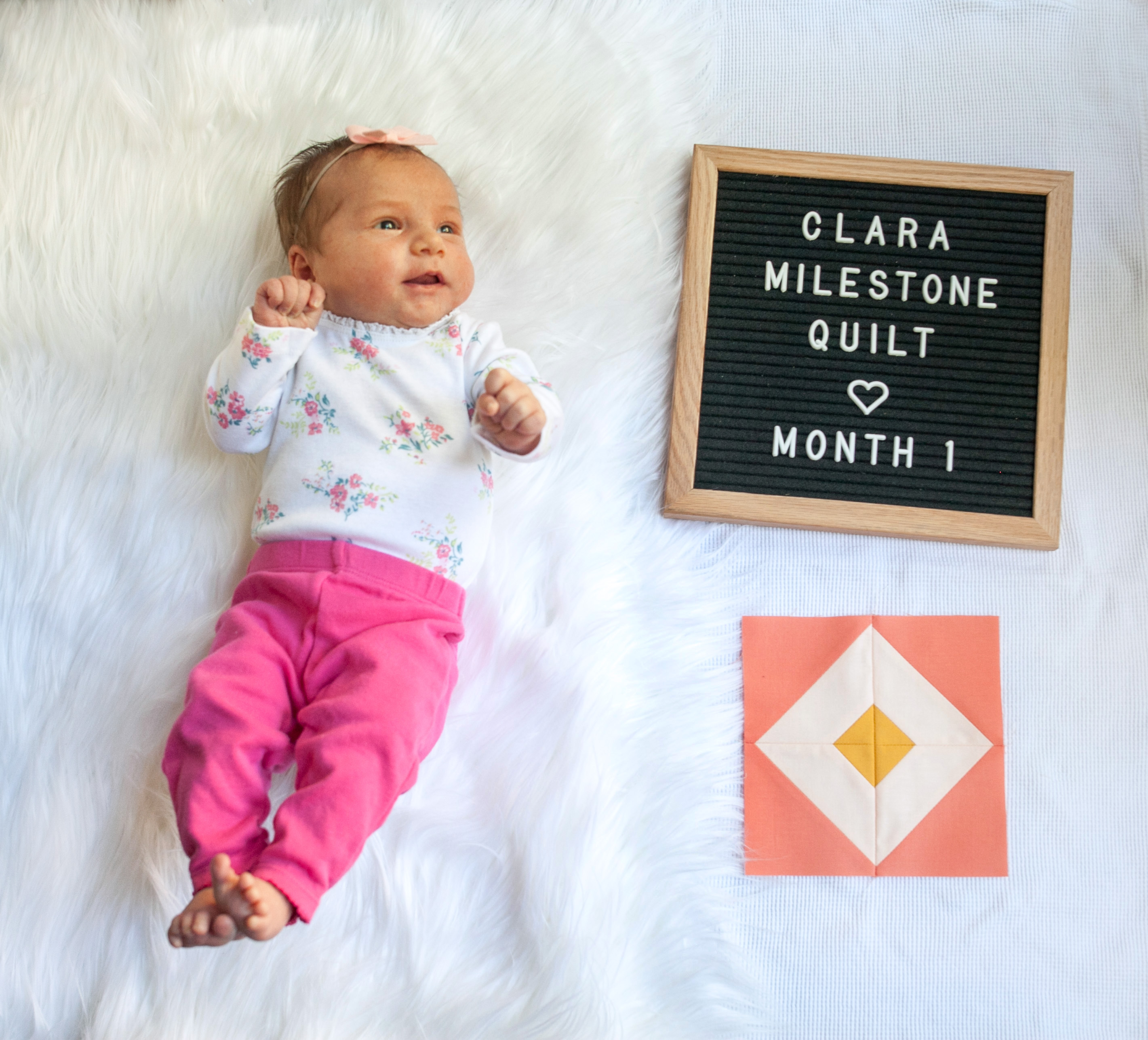 Month 2: Continuing to build the Spark block. I still can't get over how much she changed between month 1 and month 2.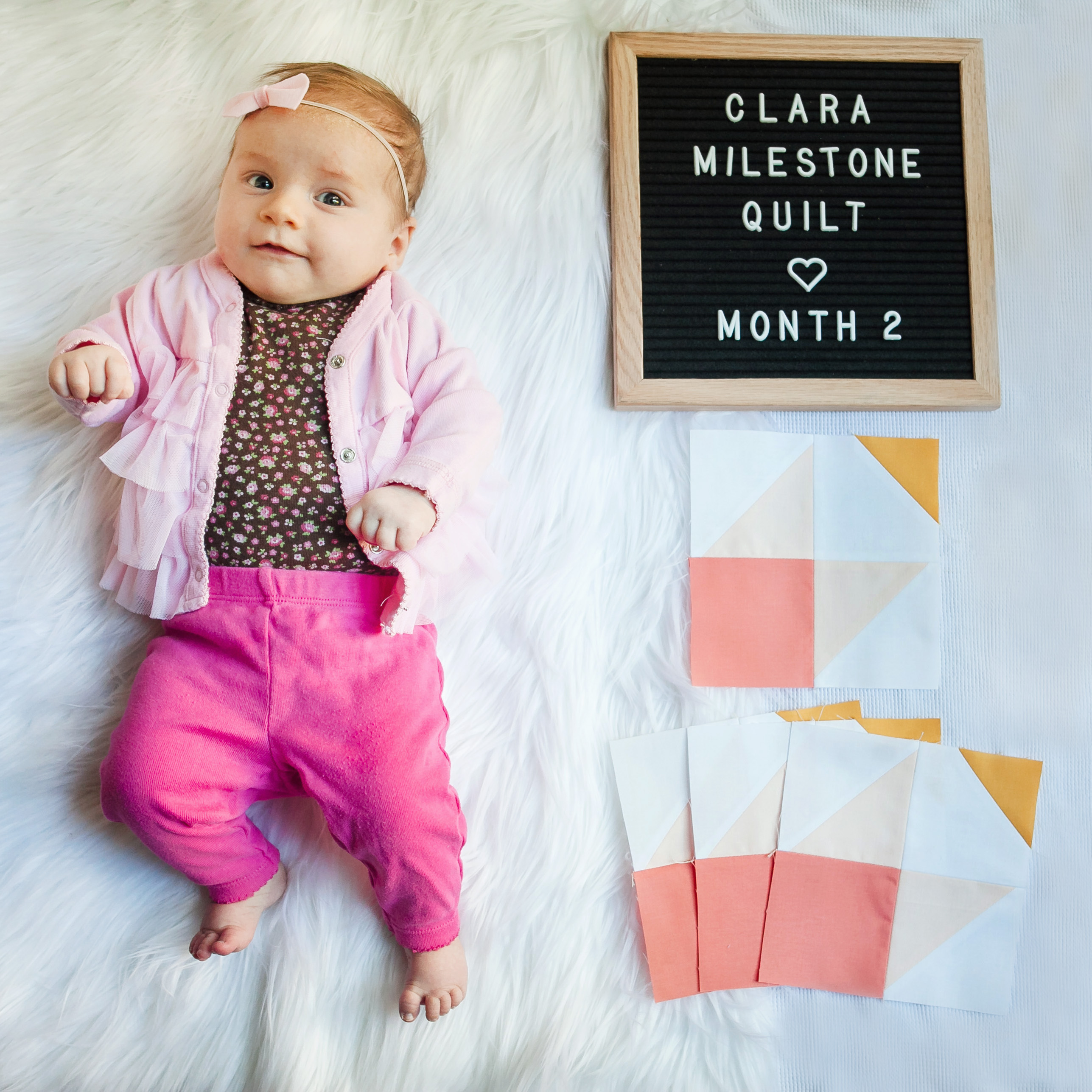 Month 3: Final section of the Spark block. This month we started getting lots of smiles and laughter.
Here's the completed Spark block to represent Clara's name. I love how it turned out!
Month 4: This block is part of the border, but when put together for the picture it looked like a tree… perfect because this month was Clara's first Christmas!!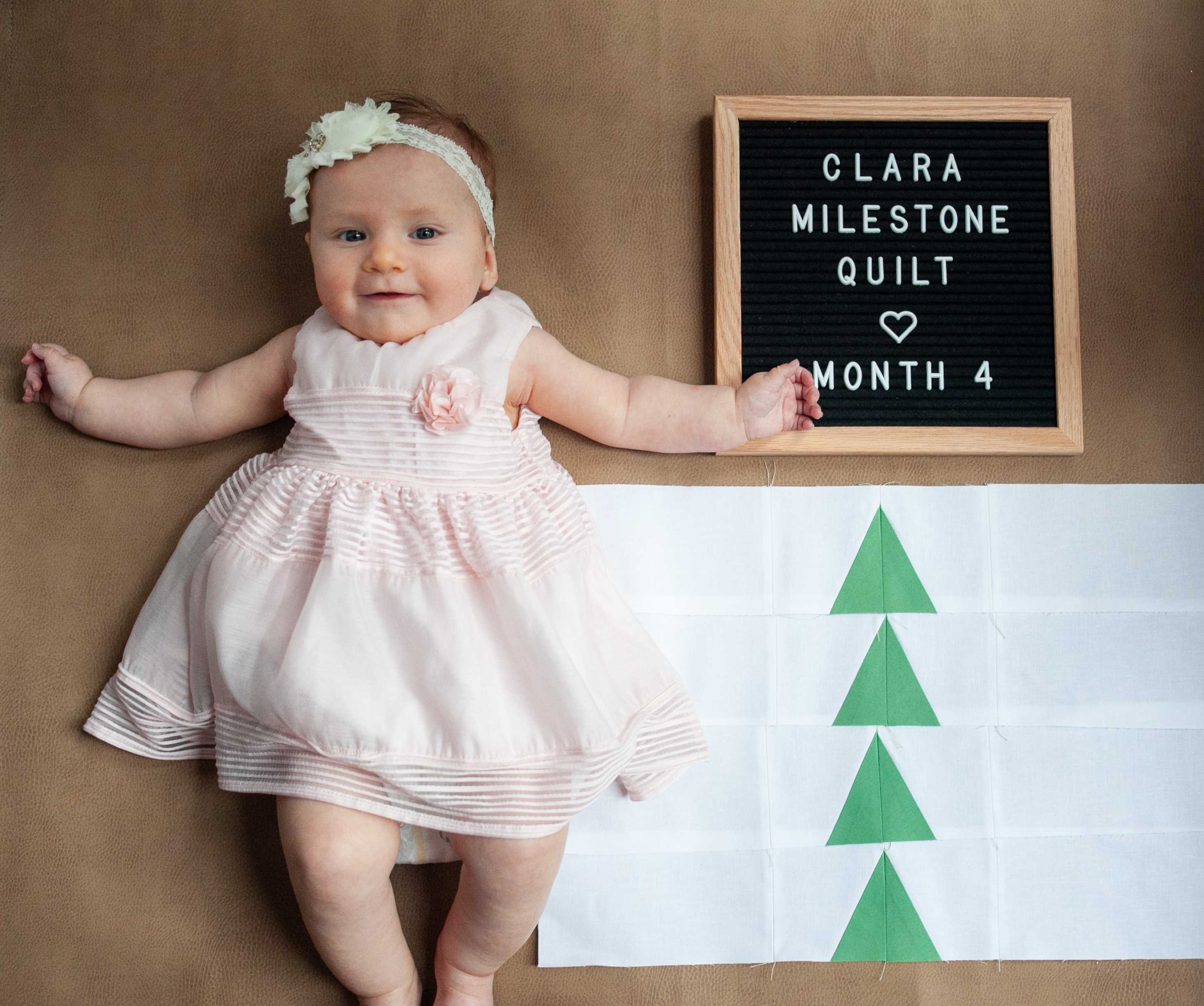 Month 5: I wanted these square-in-a-square blocks to represent different milestones as Clara grew. This month, Clara rolled over from back to tummy, so that's what I'll remember for these blocks. While taking the picture, she kept trying to roll!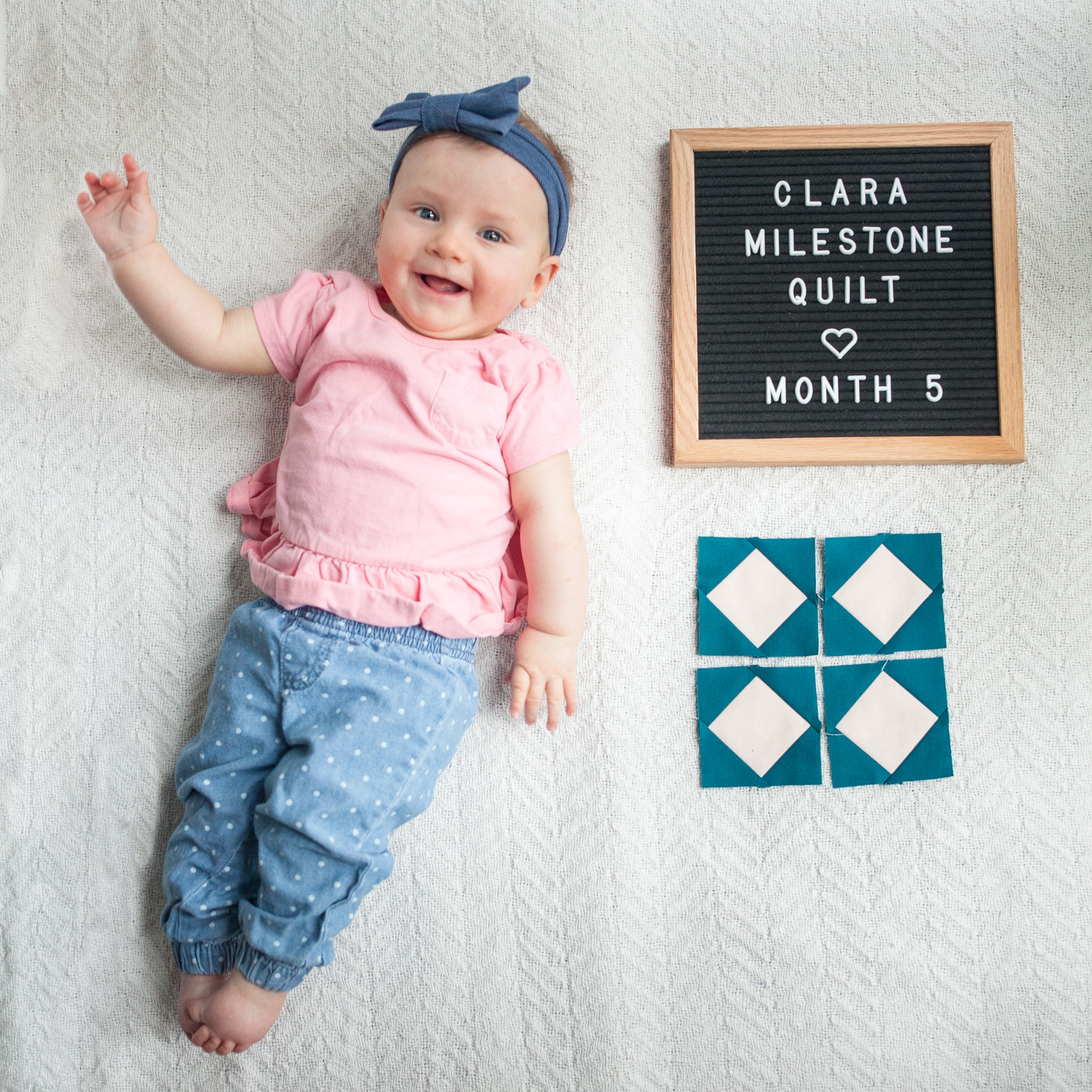 Here's a collage of the first 5 months. I love to see how much she has changed in such a short amount of time.
And here are the first 5 months quilt blocks all put together!
I'm so excited to continue this journey, watching Clara grow as I make her quilt. It is such a special experience. If you'd like to follow along, follow me and the project hashtag over on Instagram. And I'll post part 2 here after I get more of the quilt complete 🙂
Continue to Part 2!