Workshops & Teaching
Here's a sampling of lectures, classes, and events I have available. Please contact me for more information and schedule. I'd love to work with your group!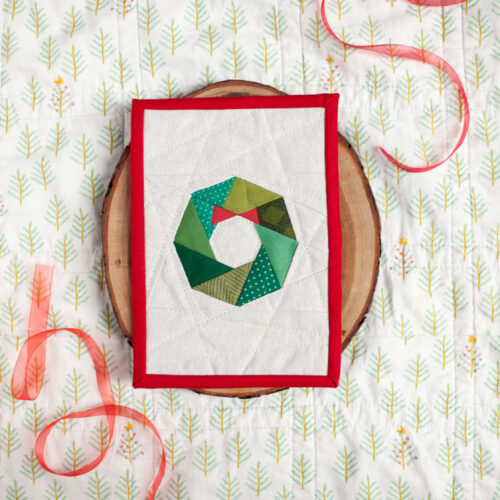 Quilt Photography Made Easy! 5 tips to take your photos from bummer to stunner
Lecture – 45 minutes
In this lecture, I'll give you my best tips and tricks for how to take clear, well-lit, beautiful photos of all your makes with just your smart phone and a few household items. No fancy equipment and lighting needed! I'll break everything down into simple, repeatable steps that will have you taking gorgeous photos every time.
Photography for Makers Workshop
Workshop – 3 hours
Whether you want to sell your amazing creations online; enter into shows or contests; share it on social media; or show your friends — having a good photo of your work can make all the difference! We'll walk through all the important aspects of a good photo, including lighting and composition and how to best hang/hold your quilts. In the hands-on portion of the workshop, we'll practice using indoor and outdoor lighting and get confident with photo styling. By the end of class you'll be able set up your own mini photo studio at home for great photos every time!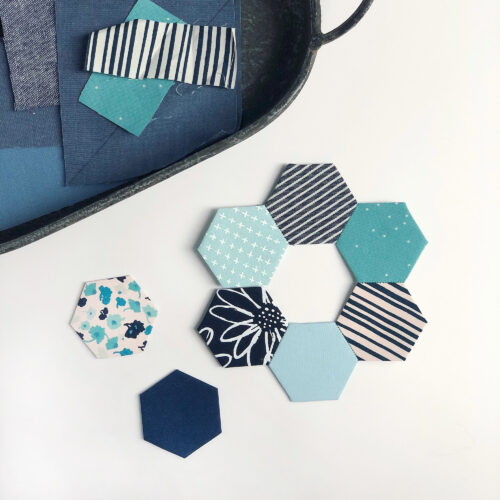 Discovering EPP
Workshop – 2 hours (hexies only) or 3 hours
Have you always wanted to try English Paper Piecing (EPP) but don't know where to start? Try a little of everything EPP has to offer in this fun and exploratory beginners class! We'll cover all the basics of EPP, including fabric selection, basting, stitching. We will explore the hexagon and diamond, my two favorite EPP shapes for beginners! You can also try all the different thread, needle, and glue options that are available, so when you leave, you'll know exactly what to stock your EPP kit with! Get your creative juices flowing with this hands on, low stress class.
EPP Beyond the Basics
Workshop – 3 hours
If you are ready to move beyond the basics of EPP, this is the place for you! We will explore the world of precut shapes beyond the hexie, while designing and stitching your own small EPP piece! We'll cover all the steps, from fabric/color selection, fussy/focused cutting, basting different shapes, and how to best join everything together. We'll even touch on designing and creating your own shapes for those who are ready to make something truly custom!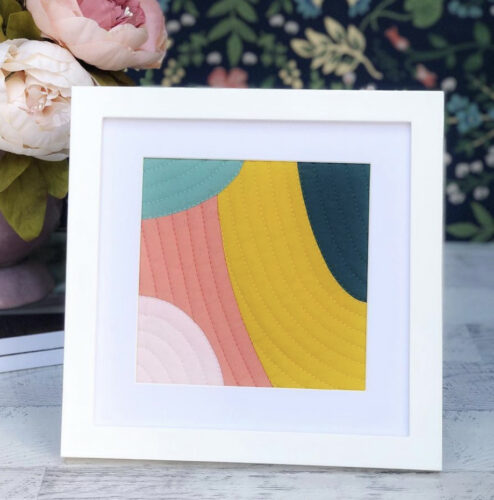 Intro to EPP Curves
Workshop – 3 hours
You have explored the world of precut EPP shapes and you are ready to try something new. Ditch the shapes that you know and jump down the EPP curves rabbit hole. EPP curves opens up a whole new world of design and project opportunities. In this class you'll learn how to design your own curvy EPP masterpiece and sew the flat back stitch with confidence!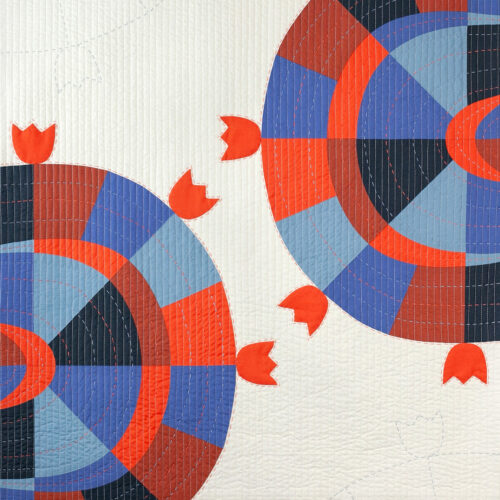 The World of Modern EPP
Trunk show / Demo / Happy Hour Stitching – 2 hours
This event can be tailored to whatever your group would like! During the trunk show, I share my favorite EPP pieces, along with several new projects in the works. I also share a little of my story about creating modern EPP quilts, what I love about this unique niche, and project inspiration. A 20 minute EPP demo follows (beginners EPP, curves, or funky shapes — you name it!), with time for questions. Then we have the remaining time to sit, sip, stitch, and socialize while doing EPP together (I can provide beginner EPP kits for $10 per person).