I'm so excited to be kicking off the Quilt Theory blog hop!!! Each day, one of the Quilt Theory designers will share more about her quilt and give away a fabulous prize. And I mean fabulous! My giveaway is for 7 yards of fabric!!! (all the heart eyes!) Is it wrong to want to win my own giveaway?!
One of the hardest things to do while designing for Quilt Theory is waiting to launch a design. There is so much work that goes into producing a pattern after the quilt is finished, but I'm so impatient, I want to share!!! Luckily, my wait is over and I get to share Picnic Play with you!
Picnic Play is a really fun one-block pattern that uses 7 colors in such a cool way! The colors are randomly matched up so it's a more laid back approach that I really enjoyed. I love all of the depth that the design and color combination brings out. Something different pops out to me every time I look at it, which is one of my favorite things about it!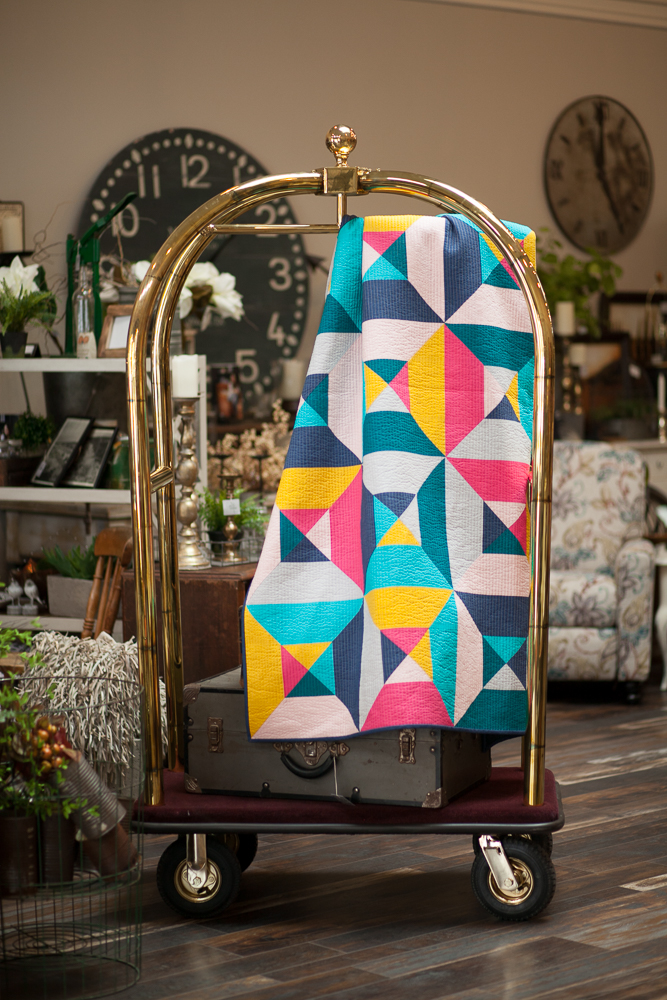 I returned to my favorite store in the world (Urban in Cashmere) to photograph the quilts from Quilt Theory and the owner had just found this vintage hotel luggage cart. It was such a fun prop to use to showcase the quilts. It is a treat to spend a few hours walking around the store to find fun places to stage the quilts. Definitely a highlight of each Quilt Theory launch. Here are a few more of my favorite photos…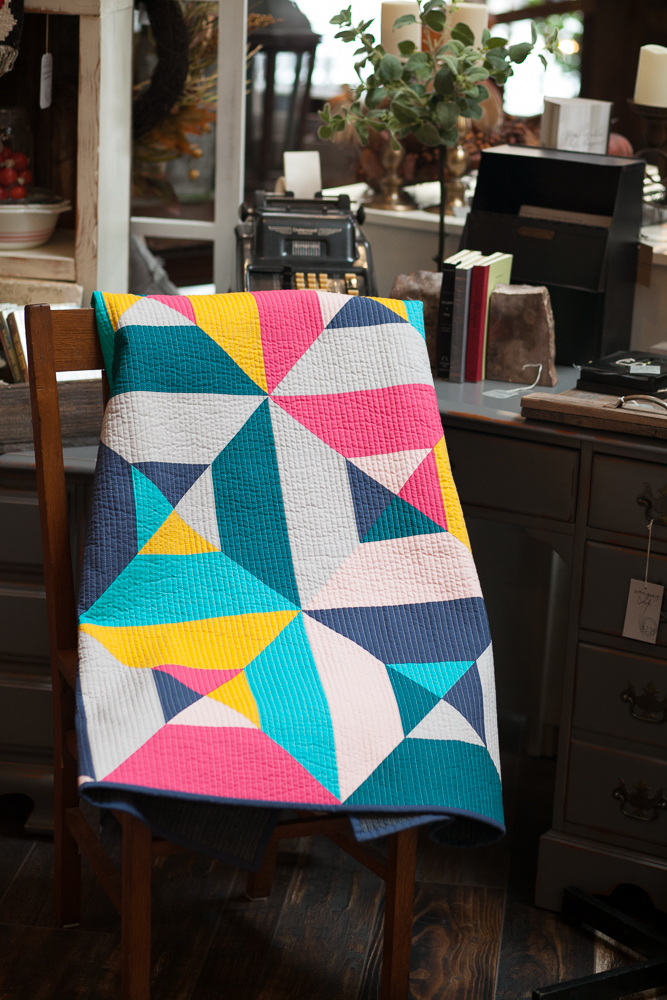 I think I want to make another version for my bed at home. I love how it looks on this bed. The colors just pop!
I quilted Picnic Play with straight lines with my walking foot. I wanted a dense, hardy feel because when I designed it, I envisioned it being the perfect quilt to take on a picnic… with all the colors, you would never notice a food stain or two 🙂 I backed it with a denim chambray from Robert Kaufman to really give it some weight and a little extra protection from a slightly damp ground (maybe it's because I'm from Washington, but my picnics always seem to be slightly soggy).
I'm not sure if you can tell from the picture, but it is quilted in pink! I loved this Aurifil 50wt Pale Pink (2410) and felt like it somehow perfectly worked with all of the colors (Aurifil magic perhaps?!).
Thanks so much for letting me share my quilt with you! Be sure to check out everyone on the Quilt Theory blog hop! Each day, one designer will share more about her quilt and reveal never before seen photos. And each designer will be giving away an amazing prize so be sure to follow along!
Quilt Theory Release Blog Hop Schedule
GIVEAWAY INFO!
To celebrate the launch of Quilt Theory's newest collection, I am giving away (7) 1 yard cuts of Cotton Couture in Bright White, Caribbean, Turquoise, Marine, Lemon, Peach, and Raspberry. This gorgeous Michael Miller fabric yardage is enough to make a complete Picnic Play quilt top!!! (Sorry I can only ship the fabric in the US). Enter below.
The giveaway ends Saturday, October 21st, at midnight eastern time and a random number generator will select the winner. Giveaway open to participants 18 years or older in the United States. Good luck!