Today it is my turn on the Quilt Theory blog hop! Meet my newest pattern, Corner Crest!
(Oh and be sure to read to the end of the post to enter to win the pattern plus some yummy fabric!)
Corner Crest is a little bit buttoned up and then a little bit wild… Maybe a bit like me haha. There is definitely a lot of structure to the pattern, but there are also many unexpected angles. Making patterns for Quilt Theory is always a great challenge to fit an interesting design in a small space. For this design, I decided to use precuts and a one block design to meet this challenge. Would you have guessed this pattern is made up of one type of block?
For the quilt, I used a layer cake bundle from Robert Kaufman. I had no idea before I started this design that they had so many different Kona palettes in precuts. For this quilt I decided on their Blushing Bouquet palette and it definitely evoked a feeling of flowers blooming in my pattern, which is perfect for a spring quilt!
When it comes to designing and making quilts, quilting is definitely the hardest part for me. I thought I had this quilt all figured out, and when I took a test photo, I hated how it looked! The minimal quilting design I had tried left the quilt looking wrinkly and frumpy. Not at all what I had in mind for this project. So I kept quilting…and quilting…and quilting. And then I spent what felt like 100 years burying threads. It taught me a great lesson on trusting your gut and not being afraid to change directions if you're not happy. And I must say, I'm absolutely in love with how it turned out in the end. (and a special thanks to Aurifil thread for making my quilting look way better than it is. Seriously, thread makes all the difference!).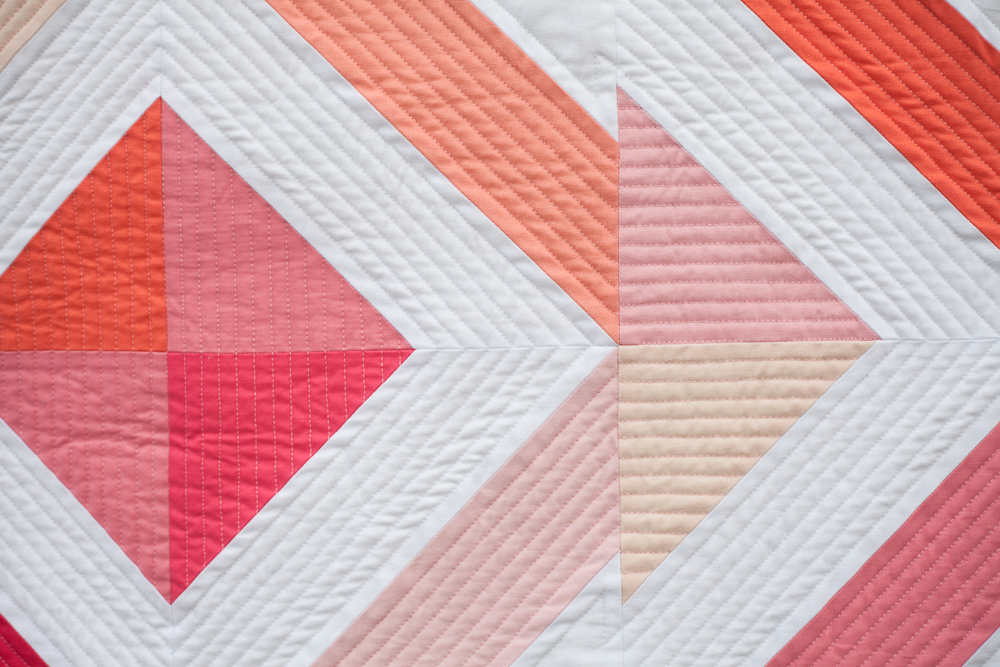 Thanks for checking out my new pattern! You can check it out and the rest of the new quilts over at Quilt Theory. They are just $3 per pattern and are seriously so fast and fun to make. And be sure to follow the rest of the Quilt Theory designers as the blog hop continues. I'll post the schedule below.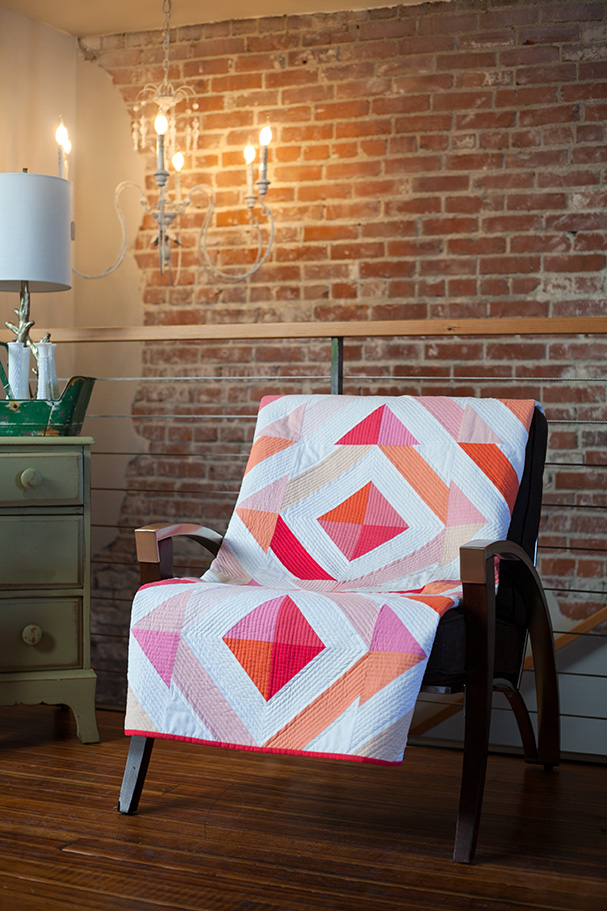 Quilt Theory Release Blog Hop Schedule
Friday 5/12 – Quilt Theory
Saturday 5/13 -Kitty @Night Quilter 
Monday 5/15 -Michelle @Michelle Bartholomew <-- THAT'S ME!
Tuesday 5/16 -Daisy @Ants to Sugar 
Wednesday 5/17- Stephanie @Late Night Quilter
Thursday 5/18 – Cheryl @Meadow Mist Designs
Friday 5/19 -Lorinda @Laurel Poppy and Pine 
Saturday 5/20 -Yvonne @Quilting Jetgirl 
Monday 5/22 – Quilt Theory
About Quilt Theory
Seven modern quilters have teamed up to create a new line of gorgeous modern quilt patterns that anyone can make. Printed on 4×6 cards (perfect for a quilty gift!), or handy one-page PDFs ready for printing, these lap-sized quilt patterns are sure to inspire. At $3 per pattern, you'll want to collect the entire series.
Quilt Theory began in February 2016, when a group of quilters connected to share successes, answer questions, and support one another as they navigated the business side of the quilting industry. What started as a way to collect real-time insight and expertise quickly evolved into an opportunity to collaborate…and Quilt Theory was born!
Where can your quilts take you?
Giveaway Time!!!
To celebrate the launch of Quilt Theory's newest collection, I am giving away a PDF copy of my pattern, Corner Crest along with a PDF of all of the Quilt Theory Coloring Pages. And because I'm in celebratory mood, I'm also going to give away some fabric! I put together a little fat eighth bundles with fabrics from my stash that were inspired by the colors in my quilt. (Sorry I can only ship the fabric in the US, but International participants can still win the pattern & coloring pages). *If you buy my pattern and then you win it, I'll refund you or let you pick out another free Quilt Theory pattern
The giveaway ends Sunday, May 21st, at midnight eastern time and a random number generator will select the winner. Giveaway open to participants 18 years or older.