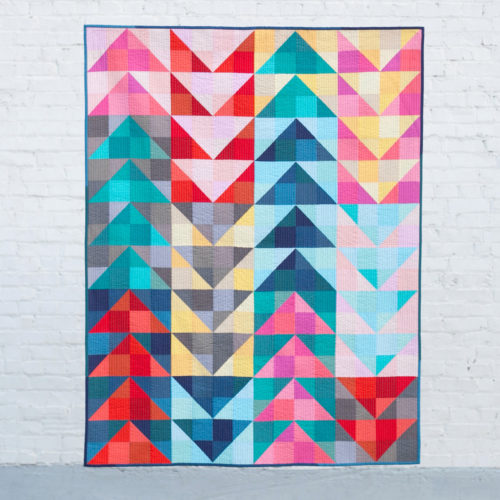 I'm so excited to share my latest quilt design, called Scrappy Geese! It is a super fun, scrap friendly, colorful flying geese inspired quilt. I designed it for a new quilt pattern company called Quilt Theory. The story behind Quilt Theory is a cool one… In February 2016, a group of quilters connected to cultivate relationships with others running businesses in the quilting industry. A tight-knit group was quickly woven together as we shared successes, answered questions, and supported one another. What started as a way to collect real-time insight and expertise quickly evolved into an opportunity to collaborate.
The collaboration became Quilt Theory, a line of simple and modern quilt patterns printed on small cards and one-page PDFs. As a group, we have become a strong team as we worked through pattern writing, testing, editing, and quilting.
I think designing this quilt was the hardest part of the process for me. I went through at least 4 designs where I later found similar designs that were already out in the world. Frustrated, I thought it might be a good exercise to return to a standard block I loved and see if I could make something new out it. I've been very interested lately in using slightly different shades and tones of color to create depth and interest, and the rest just fell into place.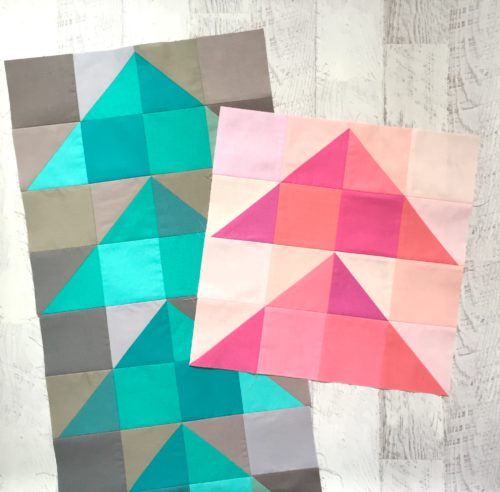 Here's a few iphone photos of the quilt coming together. I love those big, colorful flying geese blocks.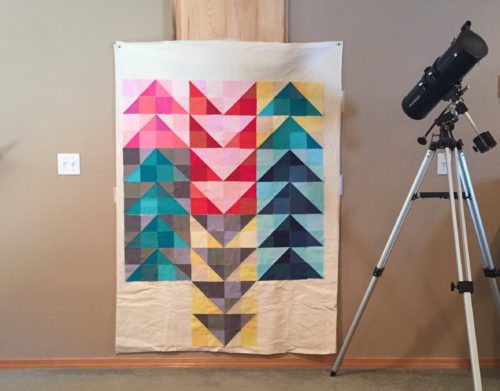 I had the honor (and it seriously was an honor) to photograph everyone's quilts for the pattern covers and the website. I have never spent so much time with such beautiful work. It was amazing. My favorite shoot was from this amazing store called Urban in Cashmere (WA).
When I entered the store, it was like the quilts were begging me to live there. They just fit right in. How cozy does my quilt look on this chair?! And I have to buy that metal dresser to just hang quilts from! 🙂
I also employed my "quilt slave" aka my husband to help me hold quilts on some of the shoots. No one tell him I posted this outtake okay. It just cracks me up and is a fun reminder of all of the great times I had photographing these quilts.
PDF patterns are available now through our website QuiltTheory.com. Pattern cards coming soon to a local quilt shop near you! Let your local quilt shop know you want them to carry Quilt Theory patterns.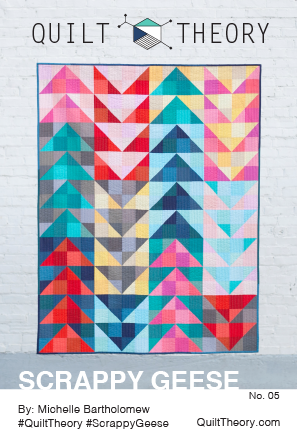 I love how the pattern covers turned out. The Cotton Couture from Michael Miller Fabrics almost glows. And the straightline quilting with Aurifil Silver White Thread provides the perfect texture.
Thanks so much for learning a bit more about my quilt! Be sure to visit the rest of the Quilt Theory designers this week during our blog hop.
Quilt Theory Release Blog Hop Schedule
Friday 10/7 – Quilt Theory
Saturday 10/8 – Yvonne @Quilting Jetgirl
Monday 10/10 – Daisy @Ants to Sugar
Tuesday 10/11 – Cheryl @Meadow Mist Designs
Wednesday 10/12- Kitty @Night Quilter
Thursday 10/13 – Michelle (You're Here!)
Friday 10/14 – Stephanie @Late Night Quilter
Saturday 10/15 – Lorinda @Laurel Poppy and Pine
Monday 10/17 – Quilt Theory
Giveaway Time!
To celebrate the launch of Quilt Theory, I am giving away a copy of my pattern, Scrappy Geese (printed or PDF, your choice!) along with a PDF of all of the Quilt Theory Coloring Pages. Because my quilt is perfect for scraps, I'll also send along my extra Michael Miller Cotton Couture fabric… enough to make a Scrappy Geese quilt top of your own! (Sorry I can only ship the fabric in the US, but International participants can still win the pattern & coloring pages). *If you buy my pattern and then you win it, I'll refund you or let you pick out another free Quilt Theory pattern 🙂
To enter:
The giveaway ends Sunday, October 16th, at midnight eastern time and a random number generator will select the winner. Giveaway open to participants 18 years or older.