I am so excited (and a bit overwhelmed) to be writing about the first quilt I've made. It is for my best friend who was married last year. I started working on it over a year ago. Since my machine is a little antiquated, I was nervous to machine quilt with it, so I decided hand stitching was the way to go. I was probably six months into hand stitching when I thought it might not have been the best choice. But the feeling I had when I finished made it worth it. I love that it is truly handmade.
While I was quilting, all of these similarities between quilting and marriage kept popping into my head. So I jotted down notes along the way and used them for a letter to accompany the quilt. I'll put the letter at the end of this post. I think it sums up nicely my experience.
Now, on to pictures! I couldn't find anyone to hold it up for me, so I tacked it to an old chicken coup. 🙂 As you can see, it is a simple design (I didn't follow a pattern or anything), but I really like how it turned out.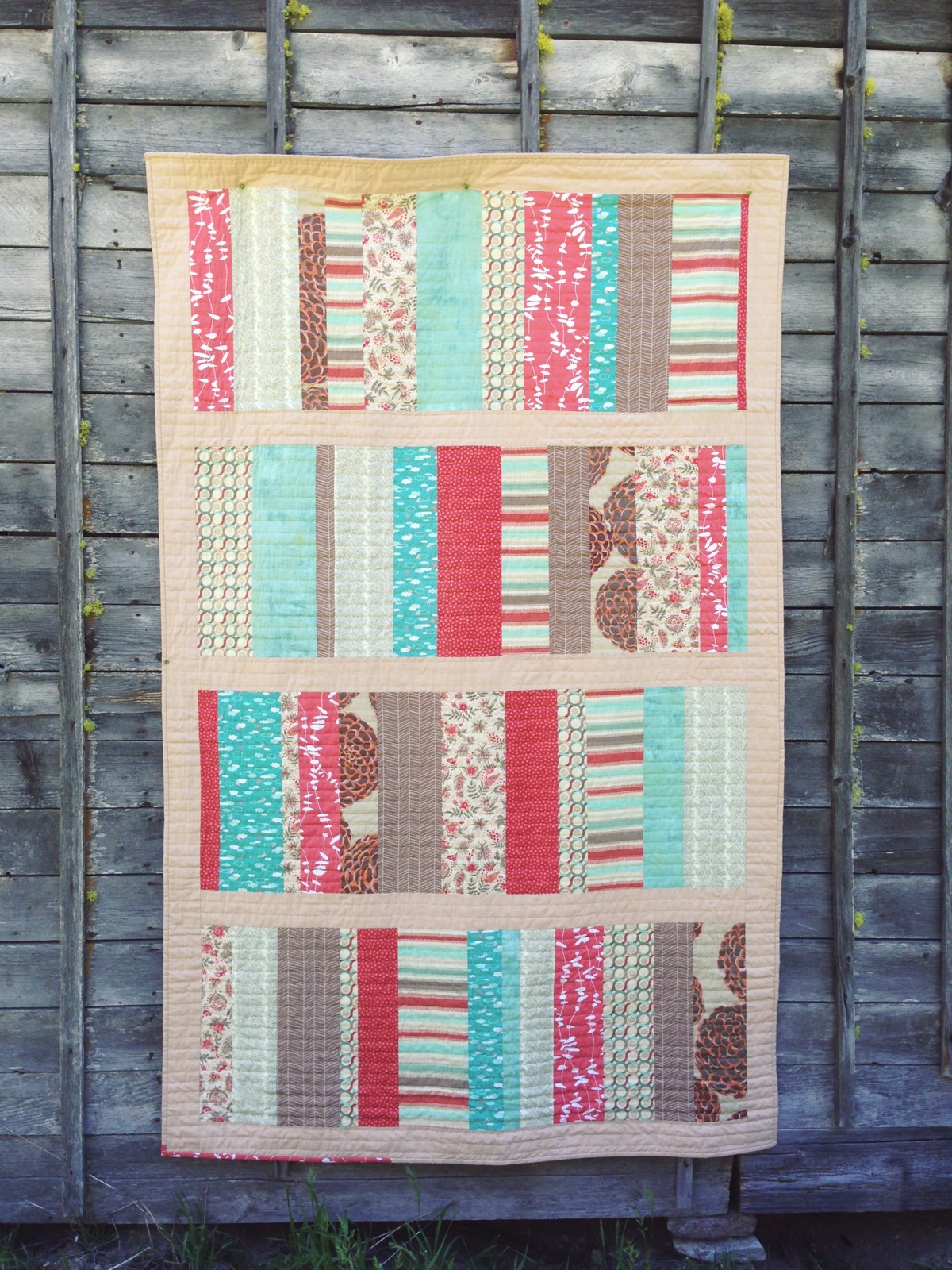 I tried to get a close up of the stitching (but not too close…. way too many mistakes, haha). The lines are 1 inch apart.

I also embroidered a little tag on the back with their initials and the year of their wedding.

Here is the letter I included with the quilt:
When I started this journey to make you a wedding quilt, I had so many grand plans. Perhaps it was a little like having grand plans for a perfect marriage. I spent months and months hunting for the perfect colors, perfect ideas, perfect patterns. But in reality, all of my plans turned out completely different than I thought. Not worse necessarily, but just a shift in expectation. And although it wasn't exactly what I envisioned, at the end of the day, it's an experience I wouldn't trade.
What you see here is a year's worth of stitches: good days – small and straight; days of frustration and impatience – long stitches with many gaps. Weird stitches – perhaps too much wine (is there such a thing?). However crooked the stitches, taken as a whole, it is a beautiful and unique story, much like your marriage. Every stitch makes the bond stronger. It's not perfect, but it is made with love.
Every time I sat down to stitch, I said a little prayer for your marriage. And I hope in some way, it can contribute to keeping you two close. Perhaps encouraging cuddle time on the couch, picnic lunches in the park, or other impromptu adventures that enrich your relationship.
It is also my hope that it falls apart due to all the use, with it's dangling threads whispering about all they've seen. And when it does, I will make you a new one to celebrate the beautiful life you are living.
All my love and wishes for the best life together imaginable,
Michelle