Cute quilt block alert! I'm excited to be one of the stops in the Summer Block Edition of the Sew Much Fun Blog Hop hosted by Jen from Faith and Fabric. At each stop of the hop, you'll find a new, fun block tutorial. Perfect for those extra summer projects!
My block for the hop is called the Very Square Star block. It is built using mostly square-in-a-square blocks and I love the cute star they form in the center. The center block would be perfect for fussy cutting as well! I think this block would make a great small pillow or mini quilt.
MATERIALS
2″ x 14″ piece of fabric in 4 different colors (Colors A, B, C, D)
3 1/2″ square in an accent color (for center of block)
3 1/2″ x 28″ strip of fabric for the background (white)
CUT
From each of the 4 colors, cut:
(7) 2″ squares
From the background fabric, cut:
(8) 3 1/2″ squares
SEW
Block 1:
Place the Color A 2" square right sides together in the corner of the 3 1/2" background square (white) as shown in diagram A. Mark a diagonal line from corner to corner of the 2" square. Sew along this line. Trim 1/4″ from sewn line (red line). Press seam toward Color A square (away from center).
On the opposite side of the square, repeat the instructions above with Color B as shown in diagram B. Continue repeating the instructions with Colors C & D as shown. Make 4. Block will finish at 3 1/2" square.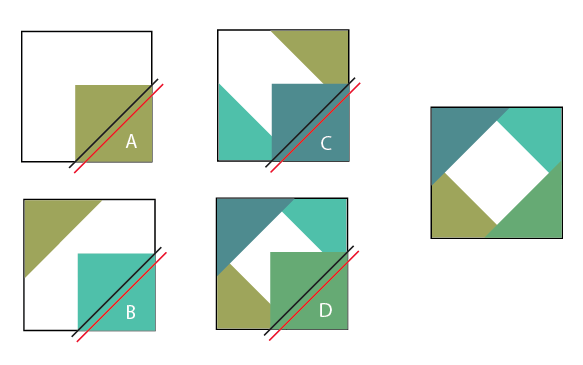 Block 2:
Repeat Block 1 instructions but only use (3) 2" squares. This will leave (1) corner white. Make sure to mix and match colors for these blocks. Make 4. Block will finish at 3 1/2" square.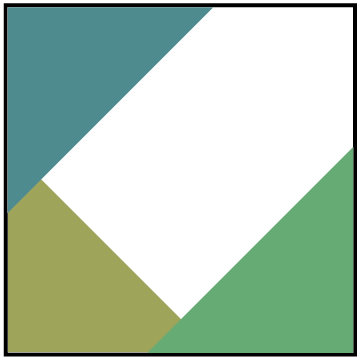 ASSEMBLE
Using all of the blocks, sew into 3 rows as shown. Press the top and bottom row toward the center block. Press the middle row away from the center block.
Sew the 3 rows together and press seams open.
Square up block to 9".
If you liked this tutorial, I'd love to have you check out my other full sized quilt patterns! Or if you're in the mood for a quick project, check out the new Quilt Theory patterns!
Please note that even though this is a free tutorial, all of the instructions are my copyrighted work. If you'd like to share, please pass along this blog post. Thank you!
Here's the list of participants. There are so many cute blocks you are going to want to check out!!