I'm excited to be linking up to the Sunday Stash for the first time! Last week I found out I won a giveaway for fabric from Pink Chalk Fabrics (Thanks to them and Kitchen Table Quilting!). I have no patience, so I picked out fabrics right away! Since Pink Chalk is located in my home state of WA, I had the fabric in my hands two days later (wahoo!)!
I have been really wanting to add some more solids to my stash and a fun way to do it is with Pink Chalk's solid scrap packs. It's funny because the colors I don't really like from it always end up being the element that really makes me love a quilt. It's a great way to push my color boundaries without committing to much. Here's my pack from this time (it had a few more light greys, but I already used them, oops :)).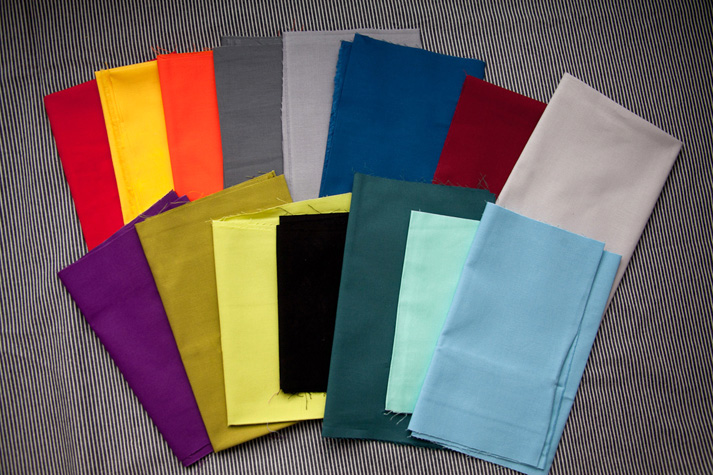 I also snagged some bigger cuts of these 3 solids. Pink Chalk's blog has a regular "what goes with what" feature where they pair solids with new fabric lines. Since my nearest local quilt shop is over an hour from me, this has been so helpful for me with my online shopping. These three were all paired to go with the Dowry line. I'm expecting my charm packs from the swap any day now and I think I'm going to combine these and make a funky plus quilt.
Kona Cotton Everglade
Free Spirit Designer Solids Hot Rose
Free Spirit Designer Solids Olive
Lastly, I thought I would label the colors for my Barn Door QAL project. Mostly just so I'll remember, but perhaps it'll be helpful to you as well.
(from left to right)
?? mystery green. (color I thought I hated from my first scrap pack… haha. I love it now!)
Kona Jade Green
Kona Silver
Thrifted (closest match is Kona Aloe)
Shot Cotton (Viridian I think)
Bella Solids Aqua
Quilters Linen Print Grey
Shot Cotton (Blue Jean I think)
Kona Navy
Cotton/Linen Chambray Shirting Indigo
Kaufman Railroad Shirting Indigo Blue
Thanks to Molli Sparkles for being a rad host.