It's been awhile since I've had anything to update you on! I had my first quilting related injury right before Thanksgiving. It was a freak accident!! I was walking with a bunch of projects in my hands, I tripped on a wire and my projects flew through the air while I braced my fall with the hot iron. Doesn't that sound like something from Home Alone or a terrible sitcom!? And to top it off I was sick all of last week. Totally the wrong time for this unproductive streak, I have a lot I want to do before Christmas! But now, I'm healed up and back on track.
First off, I made 3 more sets of coasters. I used the rest of my swoon block scraps and backed them with some linen samples I ordered. I am so obsessed with linen right now!
My in-laws own a garden/gift store in the nearby tourist town, so I decided to put the coasters in there and see if they would sell. Their store isn't exactly geared toward the handmade shopper, but it will be a fun experiment until I figure out the best place for them. And in reality, I'd like them to end up at my house 🙂
The next project I started is a baby quilt for my cousin, Haley. A while back, I made this one for my other cousin's baby with Bonnie & Camille's Happy Go Lucky fabric line:
Haley absolutely loved it and said she wanted the same pattern with the same fabric for hers. Well, I just couldn't get on board with making the same thing again. There are too many new things to be tried!!! I decided to use some charm packs from Bonnie & Camille's Scrumptious line because I think it has the same vintage-y feel that Haley liked in the other one.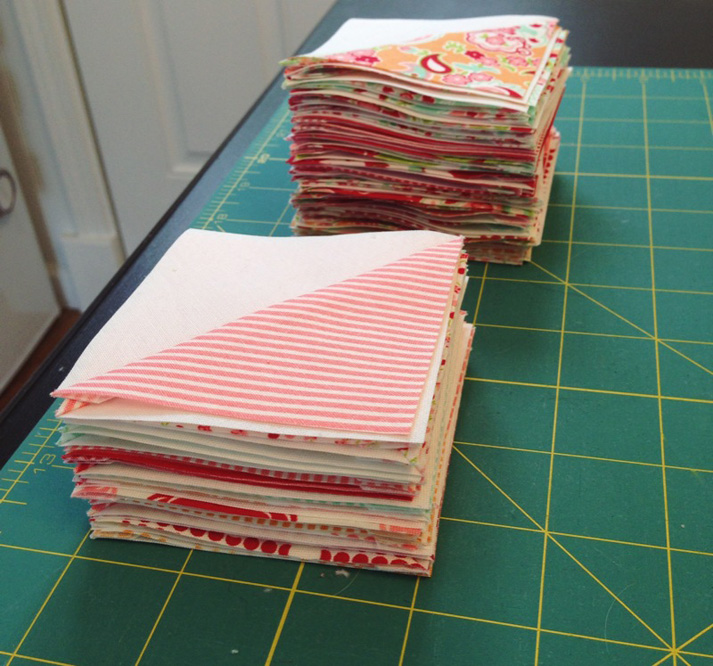 I wanted to go with something simple, but cute with some half square triangle blocks. I found this design and knew it would be perfect with the fabric. This is the layout I'm going with. Sorry for the blurry pic, it was late by the time I called it a day.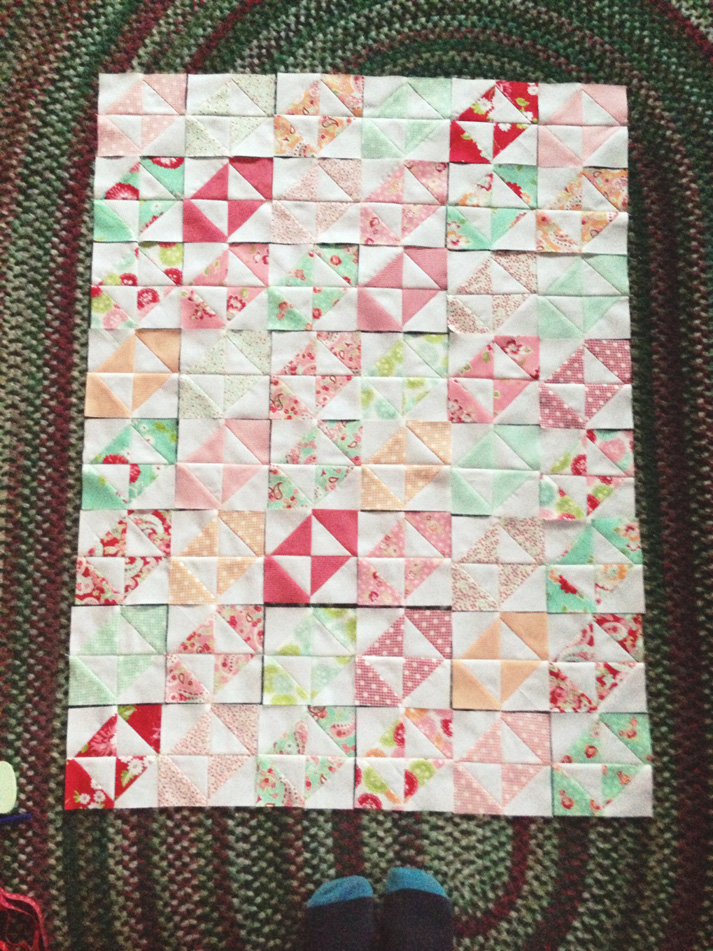 I decided to call this quilt Almost Scrumptious because I took out all of the green squares from the fabric line. I didn't like how they looked next to the turquoise color and the red. However, this made getting my colors spaced out in a pleasing way more difficult. There just weren't many options. I think in hindsight, I would have picked another fabric or two to use in place of the green.
My goal is to finish the top and have it basted by the end of the weekend. The quilt needs to be done by the time we leave for our Christmas adventures on the 21st. If I don't have any more weird accidents, it shouldn't be a problem.
I'm excited to check out what everyone has going on over at Freshly Pieced this week!