This is going to be a personal post. I've never done one of these before, but life changing things need to be shared, right!? So grab your favorite bevie and get ready for some reading (I'm going with some wine, but I'll wait until I finish writing so I don't get all dramatic on it :)).
Since I left college (9ish years ago), I've done several jobs… high school teacher, children's book editor, inventory management, software trainer, and technical writer. While none of these jobs are terrible in and of themselves, they just have nothing to do with my passions in life. Now, I understand that your job cannot always be a passion and sometimes turning passions into work is a mistake. However, I'm a big believer in doing what you need to in order to make your life what you want. And I feel like my calling has always been something else. So I've been working to make that happen.
I opened my photography business 6 years ago and worked on that full time on the side. It was definitely more towards what I was looking for in a career: owning my own business, being creative, etc. But it wasn't IT. It wasn't me… It was me trying as hard as I could to become something I just wasn't. I felt drained, uninspired, and negative. I felt like I was losing my voice and my distinct point of view.
I wanted a change, but adult life stuff (like owning a house) kind of puts the breaks on leaving your jobs for some great unknown. I still don't really know how it happened, but my husband agreed it was time for a change as well and agreed to build us a tiny house. It took about a year from starting to build to living in it full time. We rented out our big house and now live and work from our little place in the mountains. This gave us a little more freedom to start thinking about my next steps. But it seemed like life kept getting in the way… car and medical bills, family emergencies, and a bunch of small things. And there was always this little voice of doubt telling me I couldn't make it without the security of working for someone else.
At some point you just have to believe in yourself and punch doubt in the face. You will never be totally ready and you will never have all the answers. There comes a point when doing things on the side is not good enough anymore. There comes a time when you are ready to throw everything you have into something and not look back. And that's where I am…
A few weeks ago, I put in my notice at work and have stopped accepting new photography clients. This means that as of the 1st of the year I will not have a job. At the moment, it feels like I'm on a rollercoaster. I'm super excited and also terrified. My best friend tells me this is normal.
I am an entrepreneur at heart so I know I won't be sitting down and twiddling my thumbs for long. I have a few ideas of what I want to do, but I am going to take some time and really explore for a bit.
I really don't know where I'm headed, but I am full of hope and inspiration.
Thanks for reading and following me on my next adventure. You can bet this journey will inspire some new quilting projects 🙂
Now, what's a good blog post without a little bit of sewing goodness…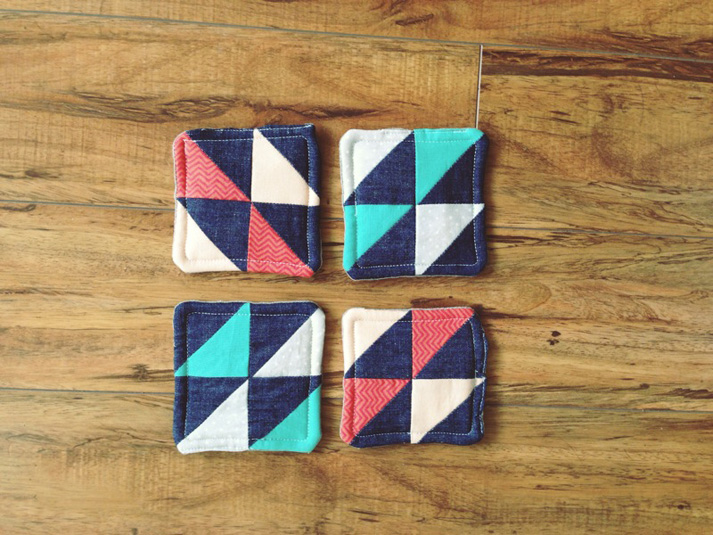 I made these coasters for my best friend's birthday over the weekend using scraps from my swoon blocks. I am in love with them and it was hard to give them up 🙂 But I still have a pile of HSTs waiting so I'll make some more soon. I think they'd make cute stocking stuffers.