The past week has been light on the sewing time and heavy on the planning time. Perhaps it's the promise of fall and thoughts chilly nights under a quilt (or ten!) that has brought on this onslaught of inspiration. Here are a few of my current projects and a few more that I'm starting this week:
Picnic Quilt
If you saw my weekend post, you got a sneak peak of my scrabble block! If you ever want a taste of losing it, sew together 225 1.5-inch squares into a board game layout. I have been not as motivated to work on this, but I need to just push through.
Here's a ROUGH sketch of the quilt layout: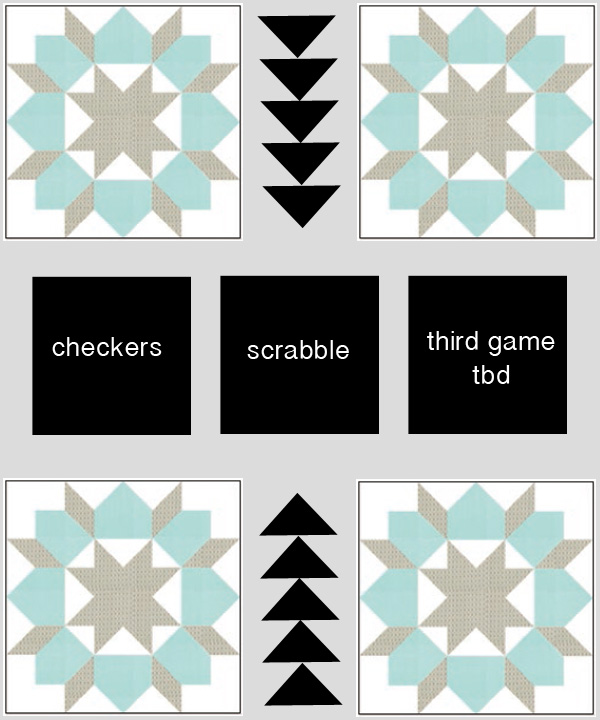 I've been itching to make some swoon blocks, but don't really want to do a whole swoon quilt at the moment, so I'm throwing them in here. And I've really been wanting to try my hand at flying geese so they weaseled their way in too.
Mal's Bridal Shower Quilt
At my sister's bridal shower a few weeks back, I had everyone write marriage advice or well wishes on squares of white fabric to be put into a quilt for her to enjoy.


I wanted to use her wedding colors in the quilt, but I didn't have much in my stash (lavender and yellow just aren't my thing… sorry sis!!). So I placed a few fabric orders and I'm praying the colors will go together. Since it needs to be done in 3 weeks, I went with a quick (but hopefully cute) design:

EPP diamonds
Since I finished my first hand quilted project in May, I've really missed having something to work on in the evenings when I'm watching a movie with the husband. Sarah from Sarah Quilts posted about her EPP hexie project and it was just the inspiration I needed.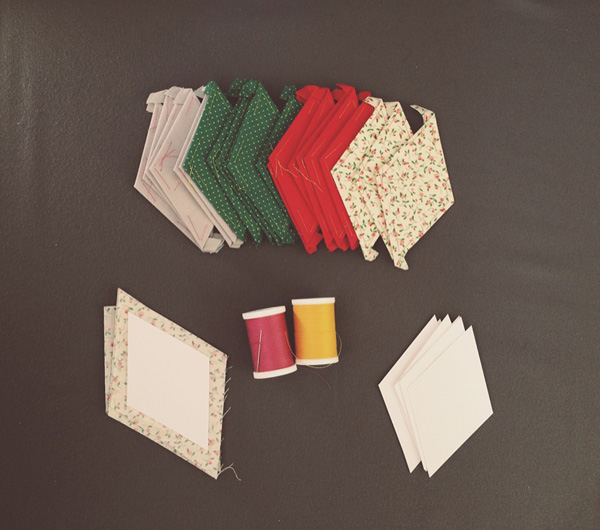 I fell in love with some quilts made with the diamond shape, so I decided to go for it! My goal is to incorporate at lot of my vintage fabrics into this one! I'm working with 2 1/2in diamonds so it should go together fairly quickly (for what it is :)).
Quilt blocks with scraps from finished quilts
Ashley from Wasn't Quilt in a Day posted a while back about making a "fabric scrapbook" of sorts, with each block being made from scraps from one quilt you've made. Since I give all of my finished quilts away as gifts (so far :)), I love the idea of getting to keep a little piece of them with me. I definitely want to do some sort of star block, maybe this Seaside Star pattern?
Have a great rest of your week! This weekend we're heading to Oregon to visit family so I'm excited to bring a bunch of my EPP diamonds along. Hooray for portable projects!!
-Michelle