It's time to link up my Q3 WIP List for the 2013 Finish-A-Long over at She Can Quilt! And while I'm at it, they are also my projects for WIP Wednesday. Two for one! Here are the projects I'm currently working on.
#1 – Baby D Chevron Quilt: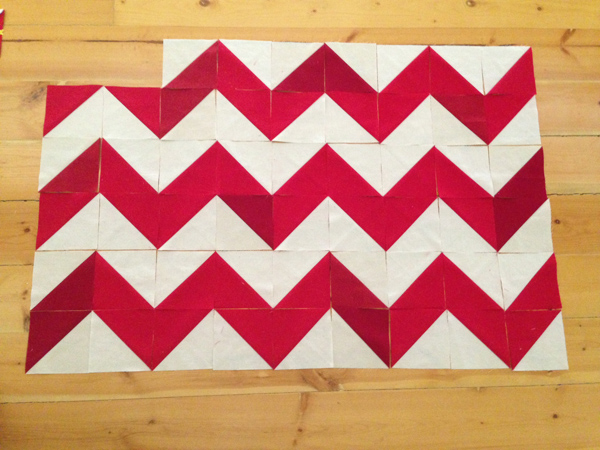 This quilt is for my friend who is due in mid August. I thought it would be finished in no time, but I have been going very slow. I finally finished pressing and trimming all of my HST triangles after putting it off during the recent heat wave. It was really fun finally getting it laid out. As you can see from the picture, I didn't buy quite enough of the red and white so I supplemented with some other red-ish, white-ish colors from my stash. My husband says it looks weird with the different colors, but I'm going with it.
#2 – Picnic Quilt (for me!):


This is the first quilt I've worked on that I'm keeping. I'm very excited! If you look at my last post, it goes into more details of what I'm envisioning. But in a nutshell, I'm planning on something comfy and colorful, with some built in games. I started on the checkboard section last week and have the scrabble(!) board planned out and ready to cut.
If you look closely you will see my slippers and my pajamas, oops! More important to work on my quilt than get dressed I guess.
That's all the major WIPs I have for this quarter. I really hope to wrap those up so I can plan some new ones 🙂
Last week for my WIP Wednesday, I posted about learning to sew a zipper. Thanks to an extra dose of confidence and some great tutorial recommendations, I did it!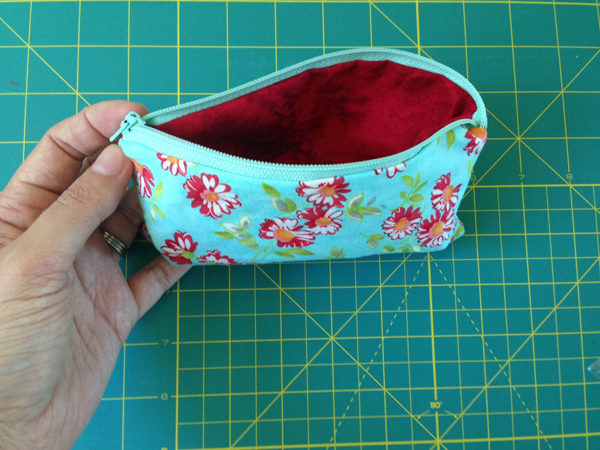 Loving my new pouch to hold my binding supplies. Much cuter than the ziplock bag I was using.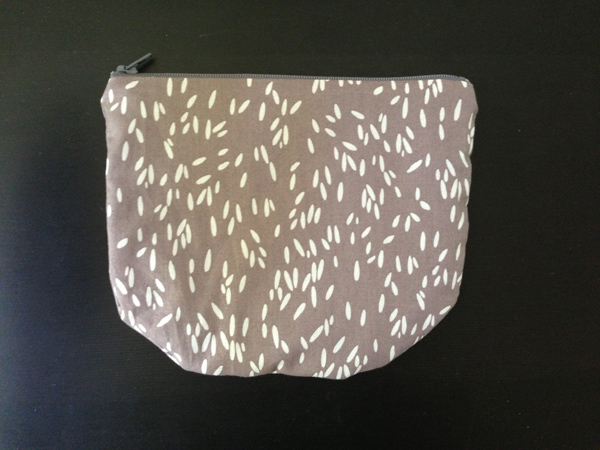 I love the roundy-ness of this one. I can't wait to make another one. Hopefully I'll get better at the curve (it might also be that I don't have a printer, so I traced the template off of my computer screen… haha)
I'm now officially addicted and now am looking to buy some zippers in bulk. Everyone's getting a pouch for Christmas! 🙂
One more fun thing to share, the voting has opened on the Threadbias quilt design contest! I'd love it if you'd vote for me 🙂 I created this entry… my first ever design – Granny's Wild.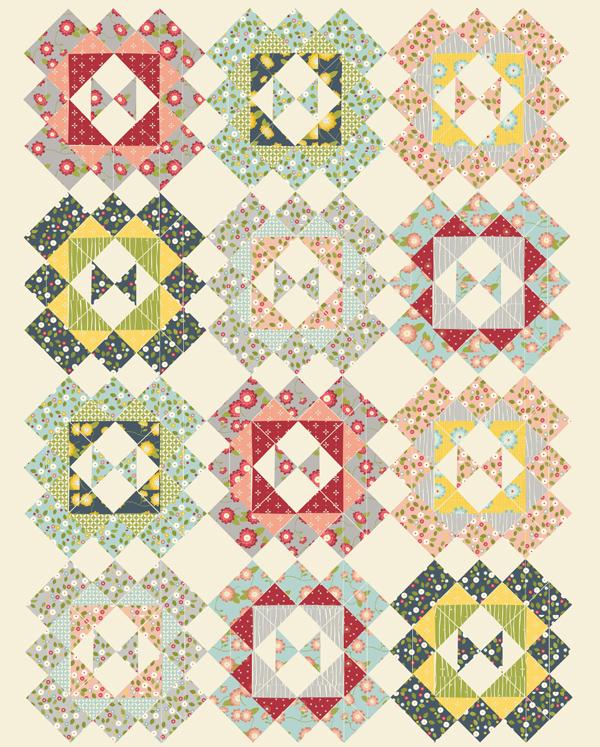 Wow, that was quite the post. Thanks for sticking it out to the end. 🙂
-Michelle