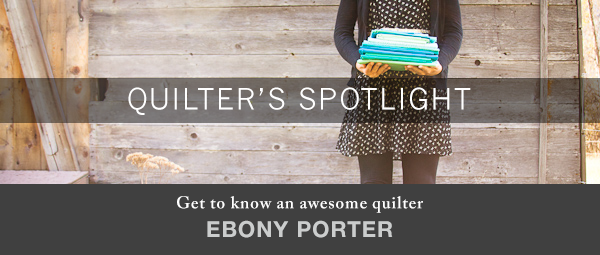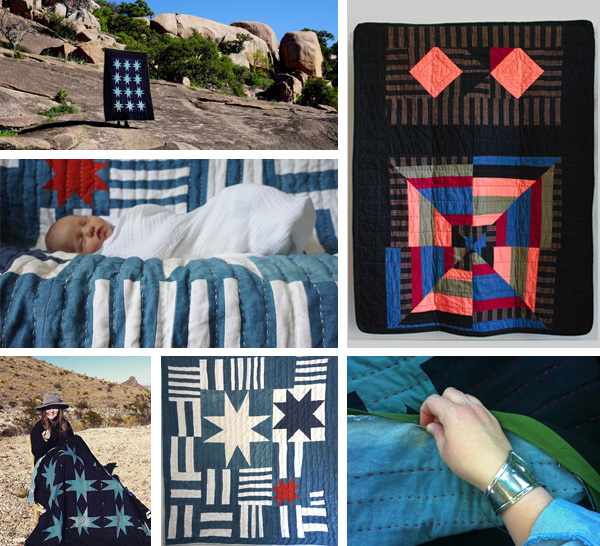 Please introduce yourself.
I'm Ebony, founder of Campfire Quilts, established in 2013. I was born in Australia but have been living in Texas since 1991. It's safe to say I'm a Texan Aussie by now.
Describe your quilty style in 3 words.
Simple, meditative, bold
What is something interesting thing about you?
I make my living as a writer. I've written since I was a little girl and never in my wildest dreams, would have thought this is where my career would land. But it has, and I feel very, very fortunate.
What Kona color best describes you?
Natural and unbleached! Because then I can naturally dye it as I wish. Since I've started dyeing my own fabric, I see firsthand that what you can achieve at home is a world away from what is available on the market. The color from natural dyes moves and pulsates in a way that factory dyes don't. I am a huge fan of shot cottons, but even those don't breathe like natural dyes.
But if I had to choose a 'color-color,' I love flame! That electric vermillion red is sensational. And I am uncertain I would be able to achieve such electricity naturally.
What's your quilting secret weapon?
I would be lost without my clear quilting ruler. I've had the same one for almost 20 years. It's what I measure to cut with and what I use to draw my quilt lines on before I start hand quilting. It's essential and I'd be lost without it.
Question of the month: Where do you find inspiration for your quilts?
I love Amish quilts from the late 1800's and early 1900's, as well as the Gees Bend Quilters of Alabama. Their bold use of color and dancing forms are like looking at a great painting you never tire of. I also find inspiration from the natural world and during my families travels. We camp a lot, which I prefer. Nature is the epitome of perfect design, so a rock formation, or the sunset over the ocean, or the geography of an area might give me some ideas on how I can transpose that into blocks or dye colors for a new quilt.
I am always thinking about traditional quilt blocks and how I can make them my own, or into something I haven't seen before. I've never used a pattern kit and I don't sketch my quilts unless I am working on a commission. I see them in my mind, and once I start to slice and dice the fabric, soon enough the quilt top begins to take form. I feel that this way there is an opportunity to change course if need be. As the quilt top grows I hang it on the wall to get a good look at what's happening, much like I do for a painting.
What is your latest and greatest quilting achievement?
I think just finishing each quilt is a great achievement, in the midst of motherhood! I have a 9 month old baby and an 8 year old, my mind is boggled at times as to when I have had time to make any quilts this last year. But it's important, and I've gotten them done. Making art keeps me balanced, and it's also important to put beauty out into the world. As I type this we are reeling from the violence in Orlando. It's important to send positivity and beauty into a world that in moments is dark, negative and confused.
I'm also proud of an article that came out about me in Texas Monthly last December. You know how Texans consider their state a country? Well this is the national magazine of Texas, and it was a major honor to appear in the pages.
What tips would you give to someone just learning how to quilt?
Be patient with yourself, and know that with each quilt, you are taking the equivalent of an entire course! Each of my quilts is like a chapter in my development. As I wrap up one quilt, I am always prepared and ready in my minds eye for the next one, and how to do it better, or more efficiently, or with better materials. Using high quality materials is everything to me. Don't cheap out. Nicer materials give you a better experience, and that true, heirloom quality.
I would also recommend that new quilters go out into the world and look at quilts in person. It's not the same looking online. My inspiration for becoming a hand quilter started by seeing hand quilted quilts in person. I could see the tactile quality of the quilt marks running down a quilt and realized this is how I wanted to make my quilts. Just like art, it's important to see it in the flesh with your own eyes.
Thanks so much for sharing with us, Ebony! Where can we find you online?
Website | Facebook | Instagram | Twitter
—————————————————
——————————————————————————————————
—————————————————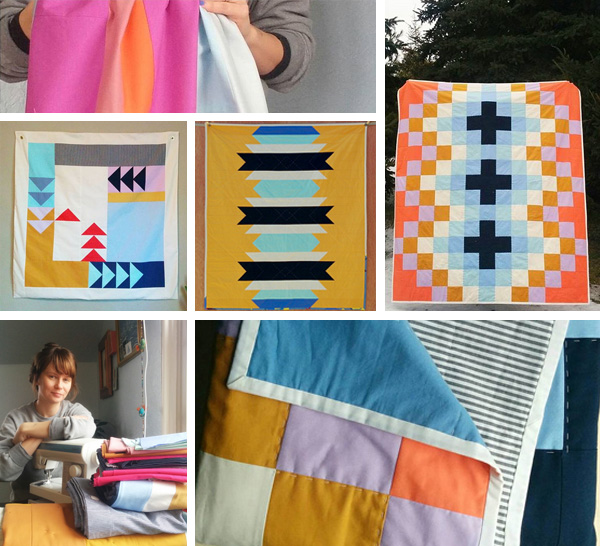 Hi there! I'd love for you to introduce yourself.
Hello! My name is Jenna, I am a colorist and fiber artist. I recently left Milwaukee and moved into my Grandmother's childhood home in Northeast Wisconsin, where I have a tiny studio in our flat. Quilts have always amazed me in their duality of use and beauty, and their magical ability to comfort. I have sporadically quilted for 13 years, finding inspiration in the natural world, folk art, and animism. I opened my online shop Rain and the River about two and a half years ago, specializing in handcrafted quilts and home textiles and have been pursuing quilting and fiber art as a full time career for the past six months.
Describe your quilty style in 3 words or less.
geometric, vibrant, handcrafted
What is something interesting thing about you?
I am a self taught fiber artist and admittedly have no idea what I'm doing half of the time! Running with that theme, I'm in the early stages of working on a quilt related book and am excited to see what this experience holds.
What Kona color best describes you?
Bluebell. It's a chameleon blue that can be neutral and grayish or totally pop depending on its placement. I feel like Bluebell mirrors my personality fairly well depending on my environment and ambitions.
What's your quilting secret weapon?
I hand quilt all of my quilts and the process can become very painful for my fingertips. I don't like using any type of thimbles because I lose the feel and rhythm of the stitches, so recently I've taken to wrapping a single layer of waterproof first aid tape around my quilting fingers for protection.
Question of the month: What's your favorite color palette right now?
I have no restraint with colors! My favorite palette of the moment is very foggy with bright pops of color, think stormy skies over a field of wildflowers.

Kona specifics: dusty blue, dresden blue, lilac, orchid, ochre, caramel, snow and a little nectarine or bright pink. Maybe a few slivers of midnight and slate too….
What is your latest and greatest quilting achievement?
I see every completed quilt and opportunity to engage with the quilting community as a huge achievement. Last month I was lucky to be included in Apartment Therapy's 'Favorite Modern Quilts' article, which was a total surprise and honor. However, I'm currently most excited about participating in WAYSIDES, a group show, at the Kohler Arts Center. I submitted a small piece inspired by Midwest barn quilts and am completely thrilled to be included in the exhibit.
Love it! Thank you so much! To see more of Jenna's amazing work, check her out at:
Website | Instagram
—————————————————
——————————————————————————————————
—————————————————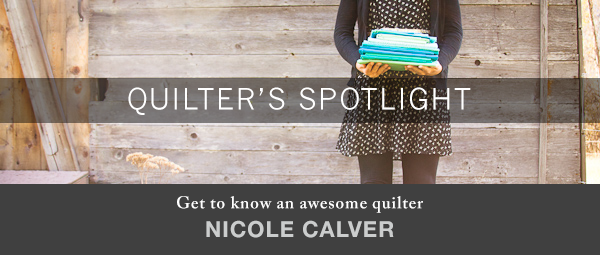 Hi there! I'd love for you to introduce yourself.
I'm Nicole, SAHM to two wonderful(ly exhausting!) little boys. When I'm not stepping on Lego's or building quilt forts you will find me in my sewing room working away on no less than five projects at once 😉
Describe your quilty style in 3 words or less.
Eclectic. I'm all over the map!
What is the most interesting thing about you?
Besides the sixth and seventh toe on my left foot? Kidding! Maybe my humour? My kids think I'm pretty funny 😉
What Kona color best describes you?
Well according to the Kona Personality test, Lagoon: "Calm, cool and creative. You love the quiet moments with just you and a humming sewing machine. You enjoy the process of making things possibly more so, than the finished project."
Um… nailed it! There's no hobby I love more than sitting at my machine, my quiet time to enjoy. (Although my hubby has recently installed a tv in my sewing room and somewhat frequently my quiet time has been replaced with Netflix, it happens!). And as for loving making things more than the finished project, yes! The creative process of a project has always been my favourite. I love pulling fabrics for a project, and planning new projects, and sketching out new ideas!
I'm also quite partial to blues, so it looks like Lagoon best describes me! But I'll never turn down a good grey 😉
What's your quilting secret weapon?
I find i use the Robert Kaufman Quilt Calculator app quite a bit. Quilt math is my weakness, so if I can get someone else to tell me the number of binding strips i need to cut without me having to do the math, I'll take it!
I've started using EQ7 but find myself going back to a simple graph pad more often than not for quilt planning. I'm old school that way i guess. EQ7 is a tough nut to crack but eventually it will be a good weapon in my arsenal!
But my biggest quilty secret weapon, Aurifil #2975 Brass. That colour makes anything (almost) look great! Points don't match up, quilt it in brass, no one will notice! Used two different shades of white for your background, quilt it in brass, no one will notice! Sliced off your fingertip with your rotary cutter, sew it up in brass, no one will notice! (okay that last one might be a stretch!) But brass has become my trademark Aurifil colour, it just goes with soooo much!
Question of the month: What's your favorite fabric right now?
I'd say Anna Maria Horner's Fibs and Fables line is currently tops for me.
Her Enchanted print is absolutely mesmerizing to me right now. Partially i think, because I've been binge watching Once Upon a Time, haha, but also because it's AMH!


It really is an enchanted print.
What is your latest and greatest quilting achievement?
Greatest quilty achievement is hard for me, I've been so absolutely blessed this past year with quilty dreams coming true. But there are a few stand out moments that for different reasons place on my quilty achievement list!
Having Love Patchwork and Quilting magazine contact me and wanting to know if I would be interested in submitting some ideas was absolutely amazing, and nerve wracking! It's that one dream that you have and think it will never happen because, how do i go about pitching them an idea?, where do i start?, who do i contact? Had I known how friendly they are and how easy it was, I would have pitched some ideas sooner! Seriously, have an idea, just pitch it! The worst they will say is no. And trust me, sometimes getting a no will lead to bigger and better things.
Which leads me to another quilty achievement. Making the cover of Love Patchwork and Quilting magazine. My first quilt to make the cover was one that I designed after receiving a rejection email about a quilt I pitched. And I always wonder if I had of made the quilt that was rejected would the cover quilt still have come along? Making the cover of LPQ was very validating to me as a quilter. To have something I made on the cover of a magazine (with the purpose of helping sell the magazine) is still very surreal to me.
Winning Sewvivor is definitely on that list, never in a million years did I expect that to happen! Sewvivor pushed me in ways I didn't think were possible. I tried new techniques, worked at the top of my game on a very tight deadline, and competed against some fantastic quilters. And still managed to have fun while doing it! It's probably closest to the top of my quilty achievements.
Also, now that I've written that all down, I'm thinking my biggest quilty achievement is probably my upcoming block of the month series in Love Patchwork and Quilting. To have had the team at LPQ discussing who they wanted for the new BOM girl and choosing me as their number one pick was one of those, let's do a happy dance in public while crying and laughing and jumping for joy, kind of moments. To have them trust and believe in me and my ideas enough to feature me in thirteen straight issues is truly one of my proudest quilty achievements!
Amazing! Thank you so much! To see more of Nicole's amazing work, check her out at:
Website | Instagram