I am so excited to be participating in this year's New Blogger Blog Hop hosted by the fabulous Beth over at Plum and June. It's a yearly showcase of new quilt bloggers and is such a good way to meet new people and get tips on blogging & quilting. I remember reading posts over and over last year when I had just started my blog and they were such a big influence on me.
I haven't taken a lot of time to introduce myself on my blog, so I'm going to take this opportunity! Grab a cup of your favorite bevie and let's get started! I'm Michelle, a photographer & technical writer, turned obsessed quilter. I live in a tiny house in the mountains of the Pacific Northwest with my husband, our fur monster/dog Rugbie, and our first baby is on the way. We find out if we're having a boy or girl later this week!
Here are a few random facts about me:
-I use exclamation points a lot, but am trying to get that under control! But I'm excited a lot!
-I love cheese and wine, although currently I don't drink wine 🙁
-My favorite place I've traveled to is the Galapagos Islands
-I dance awkwardly and with great enthusiasm
-I played soccer in college and consequently have a hard time finding pants that go over my thighs
-Half of my fabric stash is prewashed and half isn't. I can't decide which way to go on that
-If you ask me to lunch, I will strongly suggest we get sushi
I have been sewing & quilting for a year and am self taught via the good ol' internet. I'm drawn to simple, geometric quilt designs and solid fabrics, but have a hard time saying no to florals as well 🙂 This little collage is a good representation of some of the past projects featured on the blog.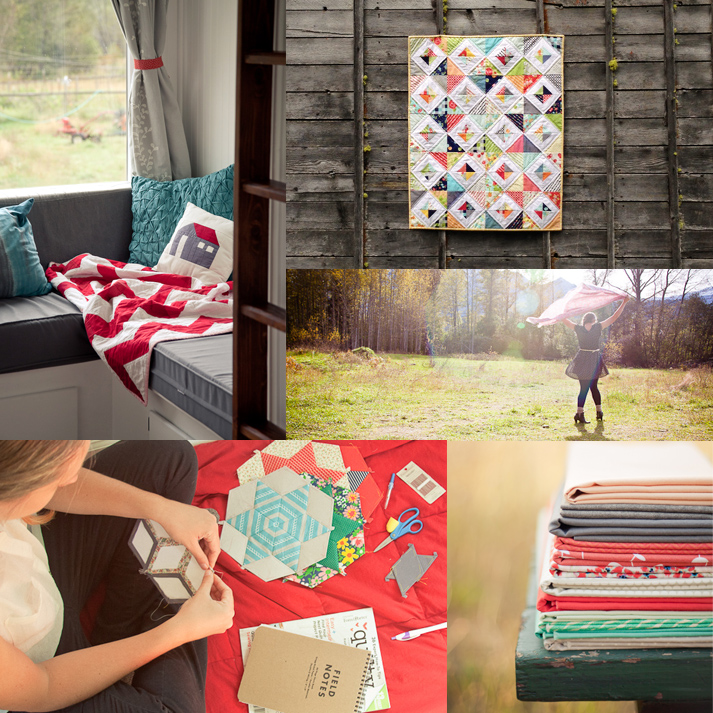 chevron quilt | happy-go-lucky quilt | epp project | photography
My blog currently focuses on the progress of my many projects, but I'm going to start posting my latest adventures in exploring quilt design, naturally dying fabrics, and designing fabric. I also have a quilt photography tutorial series in the works that will debut at the end of the month!
I'd love to briefly share with you a couple of my favorite quilts I've made as well as my current work in progress. First is the "almost scrumptious" baby quilt I made for my cousin. It is a relatively simple design but it was the first quilt I made where I really felt like all the steps came naturally to me… I felt like a *real* quilter when I completed it! 🙂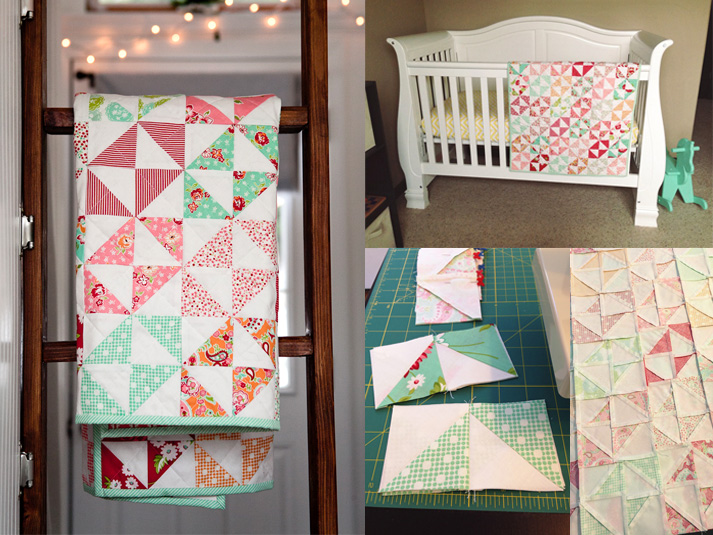 Next is my latest finish, the barn door quilt. This is my favorite quilt I've made to date and the first one where I had no limiting factors on the color scheme/fabric selection. I can't wait to do more projects like this one.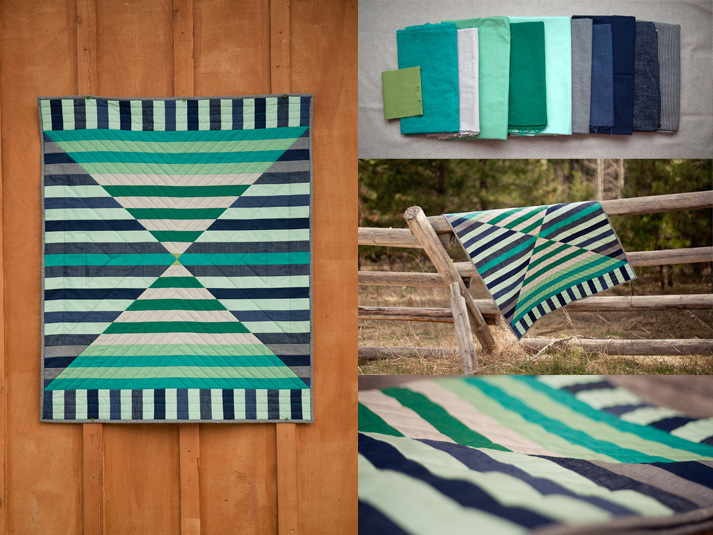 My last project is my current one, my picnic quilt. It's one of the first projects I started last year and I came up with the layout myself. However I was a bit ambitious with my skill level (or lack thereof) at the time, so it was put on hold for a bit. I am back at it now and am currently piecing the used denim I've been collecting for the backing. I'm hoping to get it done in time for summer picnics by the lake!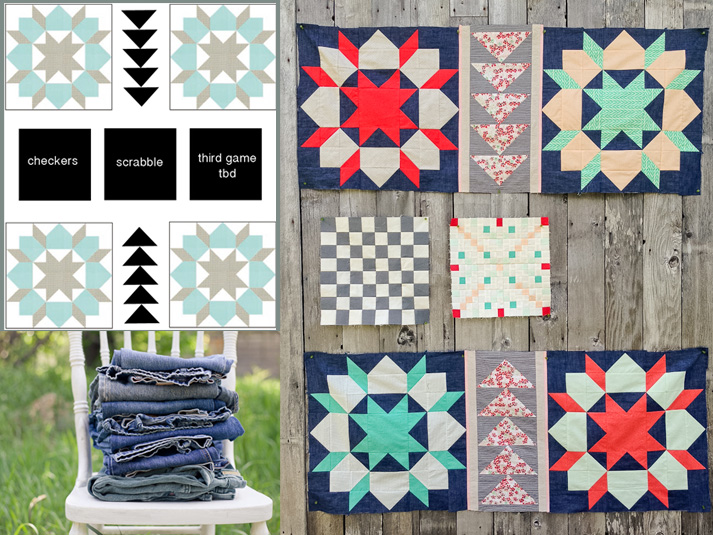 Thanks so much for taking some time out to meet me and get a little tour of my online quilting home. I thought it would be fun to end this post with a little "thanks for reading" blog photography tip.
Photography Tip: Using Natural Light
When photographing your projects, use natural light whenever possible, even indoors. This will make a huge difference no matter what kind of camera you use! Don't use your flash or have overhead lights on. I try to take my photos near a window. If light is too harsh coming through the window, you can diffuse it with some sheer white fabric or white tissue paper. Check out the difference with just a change in the light source:
photos are unedited and were taken with an iphone
In the image above, you might notice that the artificial light doesn't look too terrible, but if you look closely you'll notice a distinct color shift that makes the fabric colors look more red than they really are. Depending on what type of lights you have in your house, this shift could be even more pronounced.
Here is a look at how this photo was set up: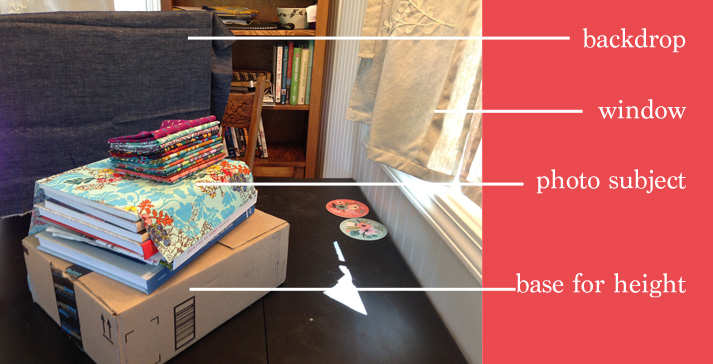 The fabric backdrop (which I should have ironed :)) is draped over my computer screen. As you can see, it's nothing fancy, but it gives a nice result.
To really make the image pop, I cropped it & gave it a minor edit. Because I had soft, natural light to begin with, it didn't need a lot of changes! Now it's ready for my next Sunday Stash post!
Stay tuned for more tips in my photography tutorial series coming later this month! I would love to hear what you'd be interested in learning more about in terms of photography or using your camera.
Want to meet a bunch of other new fun bloggers? Check out these folks who are also participating in the blog hop this week!
Jen @ Bower Bird Patch
Afton @ Quilting Mod
Jessica @ One English Teacher
Barbara @ Suzy Homemaker
Cynthia @ Quilting Is More Fun Than Housework
Mary @ See Mary Quilt
Laurel @ Drowning In Fabric
Linda @ Talking Lunch Box Quilts 
Rebecca @ One Wee Bird
Anne @ Hudson Valley Quilts
Diana @ Red Delicious Life
Terri @ Childlike Fascination